Crowded Skies XV
IVAO è lieta di presentare il "Crowded Skies XV" che si terrà il giorno 7 Dicembre 2019.
Questo evento ,che dura tutto il giorno, coinvolge decine di divisioni in tutto il mondo che forniscono un'ampia copertura ATC per migliaia di voli online. Ci aspettiamo il picco di connessioni dalle ore 18:40 UTC , quindi assicurati di partecipare e sperimentare il meglio che IVAO ha da offrire.
Siamo lieti che il nostro sponsor Aerosoft donerà nuovamente in beneficenza 1 € per ogni connes
sione simultanea effettuata al nostro network durante l'ora di punta.

Per maggiori info cliccate su questo link: http://it.forum.ivao.aero/index.php?topic=337620.0;topicseen
IVAO is pleased to present the "Crowded Skies XV" to be held on 7 December 2019.
This all-day event involves dozens of divisions around the world that provide broad ATC coverage for thousands of flights online. We expect the peak of connections from 6.40 pm UTC, so be sure to participate and experience the best that IVAO has to offer.
We are pleased that our sponsor Aerosoft will again donate € 1 to the charity for each simultaneous connection made to our network during the rush hour.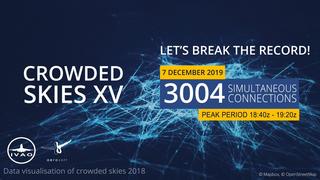 Posted By: Carmelo Rapisarda
News Id: 223 posted on 2019-11-18 22:18:39

---