Fly-In Domenica 15 Novembre
Cari piloti ,

Alitalia virtual e il suo staff è lieta di comunicarvi che il giorno 15 Novenbre alle ore 21.00 lt partirà l'evento Fly-in Torino in collaborazione con IVAO Italia.

L'evento partirà da Napoli Capodichino LIRN con volo diretto su Torino Caselle LIMF.

Il volo sarà valido ai fini del nostro Club Raduni e sarà disponibile entro due giorni prima dell'evento nella lista voli del nostro Acars con suffisso codice RAD.

Vi preghiamo di comunicare almeno entro due ore prima dell'orario di partenza, la vostra disponibilità (su canale whatsapp piloti) al nostro coordinatore IVAO Francesco Tonghini, al fine di poter assegnare gli slot parcheggi disponibili a LIRN.

Poiché è garantita una buona copertura radar su IVAO si prega di procurarvi e di tenere a portata di mano le carte aeronautiche necessarie per una corretta condotta di volo, di avere le airac aggiornate sul vostro simulatore e di adottare la fraseologia standard ICAO .
Certi di una vostra numerosa ed entusiastica partecipazione non ci resta che augurarvi buon divertimento e buon vento!!!!
Alitalia virtual and its staff is pleased to inform you that the Fly-in Turin event in collaboration with IVAO Italia will start on 15 November at 21.00 lt.
The event will depart from Naples Capodichino LIRN with a direct flight to Turin Caselle LIMF.
The flight will be valid for the purposes of our Club Gatherings and will be available within two days before the event in the flight list of our Acars with suffix RAD code.
Please notify our IVAO coordinator Francesco Tonghini at least two hours before the departure time of your availability (on the pilots whatsapp channel), in order to be able to assign the parking slots available to LIRN.
As good radar coverage is guaranteed on IVAO, please obtain and keep handy the aeronautical charts necessary for correct flight conduct, have the airacs updated on your simulator and adopt the ICAO standard phraseology.
Certain of your numerous and enthusiastic participation, we just have to wish you good fun and good wind !!!!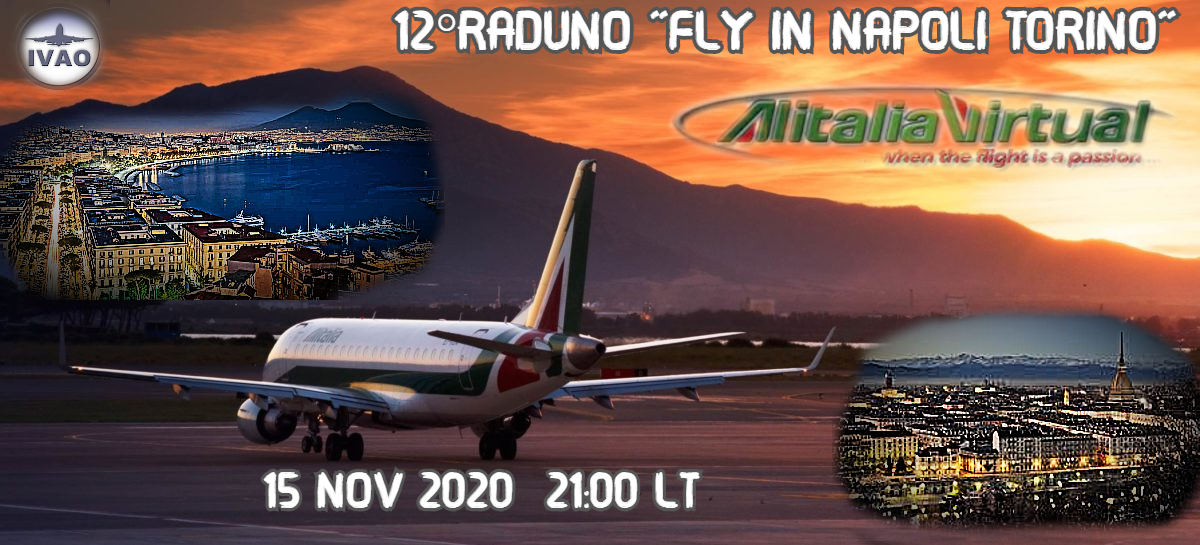 Posted By: Marco Dalforno
News Id: 284 posted on 2020-11-07 11:04:42

---