Tour Grecia 2021: The Island H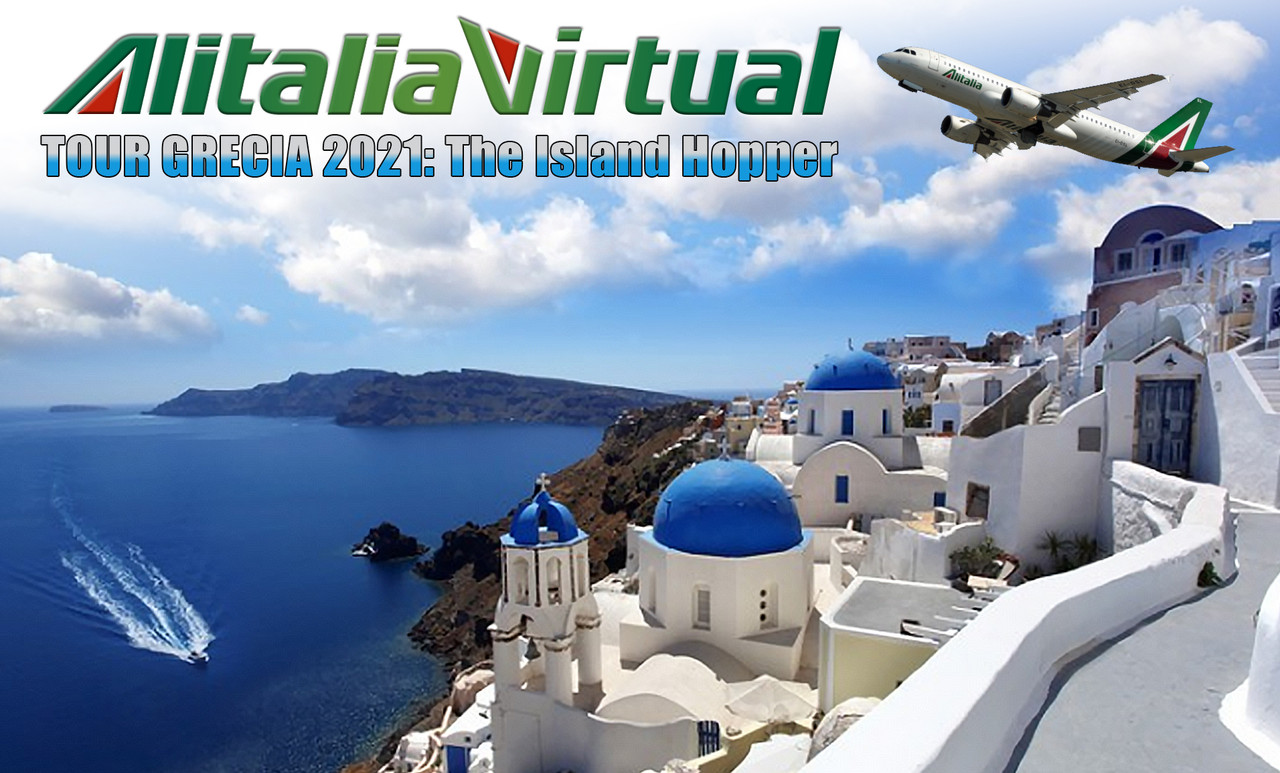 Cari Piloti,
La voglia di tornare a viaggiare è tanta, lasciamoci dietro questo lungo e interminabile inverno.
Alitalia Virtual propone questo incredibile tour delle isole greche, che ci vedra' impegnati in tratte di medio, corto e cortissimo raggio.
Questo tour è stato programmato per misurare le vostre migliori doti di pilota e di attento pianificatore.
Visiteremo alcuni tra gli aeroporti piu impegnativi al mondo, meta delle più belle e selvagge spiagge dalle acque cristalline delle Isole Greche.
Alla ricerca delle calette piu nascoste in un mare cristallino all'insegna del Mare, Relax e della Cultura greca.
Avrete la possibilità di vivere una esperienza di volo unica, tra villaggi tradizionali e testimonianze storiche.
Fine tour 30 Settembre 2021 Buon vento a tutti!!!
Dear Pilots,
The wish to return to travel is great, let's leave this long and endless winter behind.
Alitalia Virtual offers this incredible tour of the Greek islands, which will see us engaged in medium, short and very short haul routes.
This tour has been designed to measure your best skills as a pilot and a careful planner.
We will visit some of the most challenging airports in the world, destination of the most beautiful and wild beaches with crystal clear waters of the Greek Islands.
In search of the most hidden coves in a crystalline sea in the name of Sea, Relaxation and Greek Culture.
You will have the opportunity to live a unique flight experience, between traditional villages and historical testimonies.
End of tour 30 September 2021. Clear skies to all!!!
LIRF Fiumicino
LGKR Corfu
LGAV Atene
LGRP Rodi
LGSK Skiatos
LGSM Samo
LGKP Karpathos
LGIR Heraklion
LGSR Santorini
LGKC Kithira
LGKL Sparta Kalamata
LGKF Kefalonia
LGKO Kos
LGPA Paros
LGIK Ikaria!!
LGPL Astypalaia!
LGMK Mykonos
LGSA Chania
LGMT Mitilini
LGSO Syros
LIRF Fiumicino
Posted By: Giulio Cataldo
News Id: 294 posted on 2021-07-13 00:40:45

---