Tour Mercatini 2019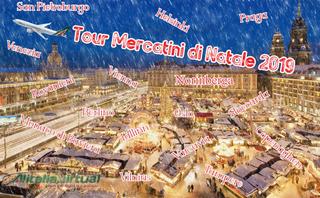 Lo staff comunica che il TOUR MERCATINI 2019 è online per le iscrizioni.
Il Tour inizia il 1 Dicembre 2019 e finirà il 15 Gennaio 2020
16 Tappe in cui andremmo a visitare paesi dove si organizzano i famosi mercatini di Natale ,naturalmente non può mancare la visita a Rovanieni il paese di Babbo Natale.
Buoni voli con Alitalia Virtual
The staff informs that the TOUR MERCATINI 2019 is online for registration.
The Tour begins December 1, 2019 and ends January 15, 2020
16 Stages in which we would go to visit countries where the famous Christmas markets are organized, naturally we cannot miss the visit to Rovanieni the town of Santa Claus.
Good flights with Alitalia Virtual
Posted By: Carmelo Rapisarda
News Id: 227 posted on 2019-11-26 17:52:45

---